De verschillende schermen van Plesk
Plesk stelt gebruikers van webhostingdiensten in staat om op een hele makkelijke manier allerlei taken uit te voeren via een robuuste en makkelijk te gebruiken website. Plesk bevat alle belangrijke hulpprogramma's die u nodig hebt voor het bouwen en beheren van websites, postvakken, databases, enzovoorts. Laten we eens kijken naar een schermafbeelding van Plesk om te ontdekken hoe de verschillende onderdelen zijn georganiseerd: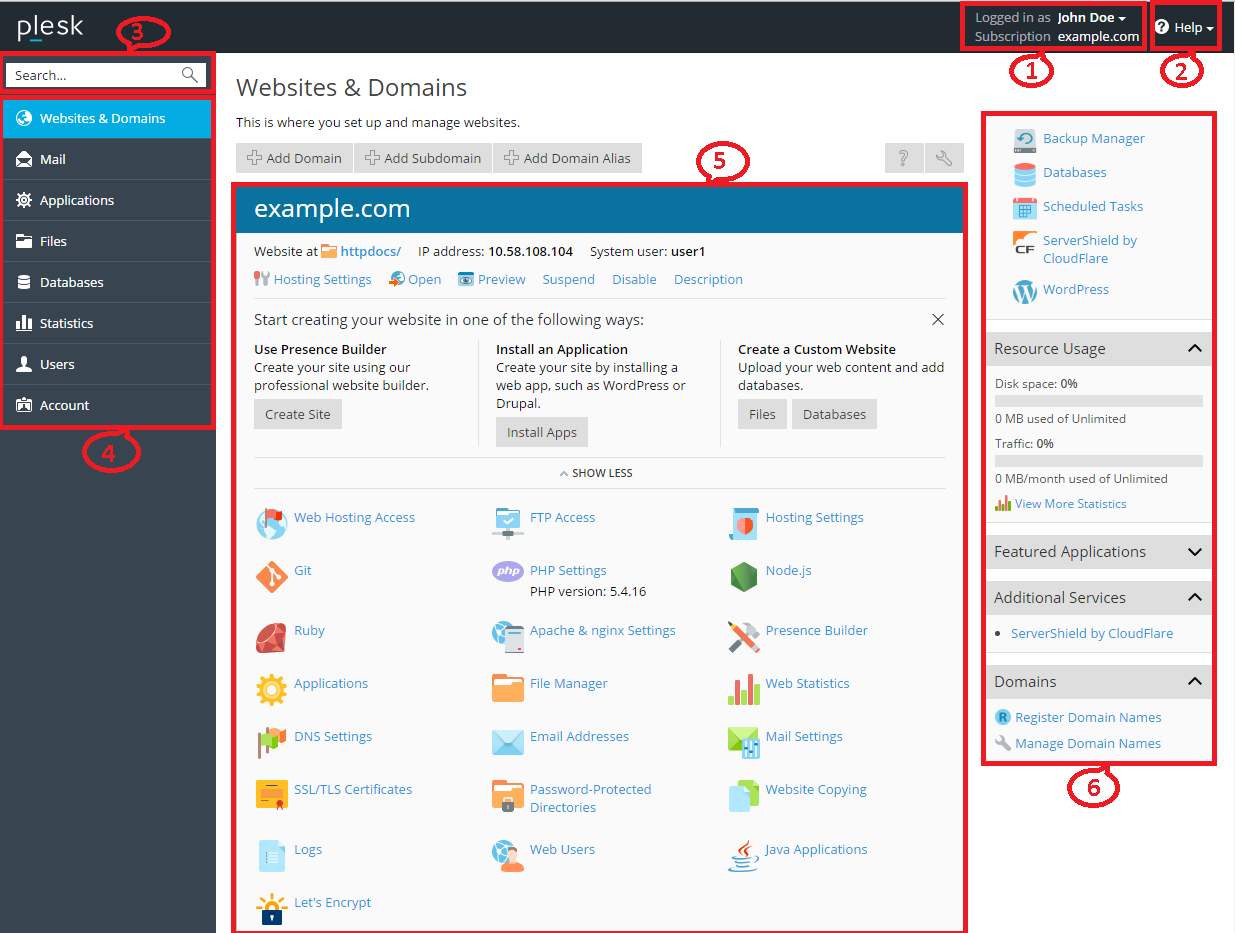 Hier worden de namen weergegeven van de gebruiker die momenteel is aangemeld en het abonnement dat is geselecteerd. De gebruiker kan de eigenschappen van zijn of haar account wijzigen en een abonnement selecteren om te beheren.
Deze sectie bevat het menu Help. Via het menu Help hebben gebruikers toegang tot de online handleiding die is toegesneden op de context waarin u zich bevindt. Ook kunt u hier video-instructies bekijken.
Hier bevindt zich het veld Zoeken.
In deze sectie bevindt zich het navigatiepaneel met verschillende onderdelen die helpen om het scherm van Plesk te organiseren. Hulpprogramma's zijn ingedeeld per functie. Zo vindt u hulpprogramma's waarmee gebruikers hun webhosting-instellingen kunnen beheren op de pagina Websites & domeinen en die voor het beheren van mailaccounts op de pagina Mail. Dit is een korte omschrijving van alle pagina's en de functies die zij bevatten:

Websites & domeinen. Met de hulpprogramma's die u hier vindt kunnen domeinen, subdomeinen en domeinaliassen worden toegevoegd en verwijderd. Ze schakelen deze ook in om verschillende instellingen voor webhosting te beheren, databases en databasegebruikers aan te maken en beheren, DNS-instellingen te wijzigen en websites te beveiligen met SSL/TLS certificaten.
Mail. Met deze hulpprogramma's kunnen e-mailaccounts worden toegevoegd en verwijderd en kan de mailserver worden beheerd.
Toepassingen. Met deze hulpprogramma's kan een breed scala van webtoepassingen gemakkelijk worden geïnstalleerd en beheerd.
Bestanden. Deze pagina beschikt over webgebaseerd bestandbeheer waarmee gebruikers bestanden naar hun website kunnen uploaden en de bestanden te beheren die al aanwezig zijn in het bestandsysteem van hun abonnement.
Databases. Vanaf deze pagina kunnen nieuwe databases worden aangemaakt en bestaande databases worden beheerd.
Statistieken. Op deze pagina is ook informatie te vinden over de gebruikte schijfruimte en het dataverkeer. Via de link naar de webstatistieken kan een gedetailleerd overzicht van het websitebezoek worden gevonden.
Gebruikers. De hulpprogramma's hier kunnen worden gebruikt voor het toevoegen en verwijderen van gebruikeraccounts waarmee andere mensen zich bij Plesk kunnen aanmelden.
Account. Deze pagina bevat informatie over de door het abonnement gebruikte middelen, de hostingopties die zijn toegestaan en de toegewezen rechten. Met de hulpprogramma's hier kunnen gebruikers hun contactgegevens en persoonlijke informatie ophalen en bijwerken. Ook kunnen ze reservekopieën maken van hun abonnement-instellingen en websites.

In deze sectie bevinden zich alle bedieningselementen die relevant zijn voor het momenteel geopende scherm. Op de schermafbeelding is de pagina Websites & domeinen geopend en dus worden de verschillende hulpprogramma's getoond voor het beheren van alle aspecten van het abonnement die met webhosting te maken hebben.
In deze sectie zijn uiteenlopende bedieningselementen bij elkaar gebracht in combinatie met informatie die wordt getoond om de gebruiker van dienst te zijn.
Verderop in de handleiding geven wij aanwijzingen voor het uitvoeren van alledaagse taken. In de meeste gevallen komt dit neer op het openen van een van de tabbladen en het klikken op de bedieningselementen die zich hier bevinden. Als een tabblad of een bedieningselement niet kan worden gevonden, dan komt dat waarschijnlijk omdat deze is uitgeschakeld voor het betreffende abonnement. Wie zich hiermee geconfronteerd ziet moet contact opnemen met zijn of haar hostingprovider voor verdere ondersteuning.