Mail-instellingen van domeinen
U kunt de volgende mail-instellingen configureren voor individuele domeinen (tabblad Mail > selecteer een domein > Mail-instellingen):
Status van maildienst. U kunt de maildienst voor een domein in zijn geheel in- of uitschakelen (Maildienst op domein activeren).

Belangrijk: Het is nodig om de maildienst uit te schakelen als er een externe maildienst wordt gebruikt, zoals Gmail: door het uitschakelen van de lokale maildienst kan de mail op de juiste manier worden bezorgd.

Instellingen voor het terugsturen van mail. Als iemand een bericht stuurt naar een e-mailadres dat niet bestaat, dan wordt deze standaard door de mailserver geaccepteerd en verwerkt. Als de mailserver ontdekt dat de ontvanger niet bestaat binnen het betreffende domein, dan wordt de mail met een foutmelding naar de afzender teruggestuurd. U beschikt hier over de volgende opties:

Blijf al dit soort mails terugsturen naar de afzender (de optie Afwijzen met verklaring).
Stuur al deze mails door naar een specifiek e-mailadres (de optie Doorsturen naar adres). Dit wordt ook wel een catch-all-adres genoemd.

Merk op dat als de controle voor uitgaande mail is ingeschakeld door uw provider, het doorstuuradres moet horen bij hetzelfde domein als waarvoor uw de terugstuur-instellingen aanpast. Als u een extern e-mailadres moet opgeven (dat wil zeggen, een adres buiten het domein) of u moet één adres opgeven voor meerdere domeinen, neem dan contact op met uw hostingprovider.

Stuur al dit soort mail door naar een andere mailserver met het opgegeven IP-adres via de optie Doorsturen naar externe mailserver met IP-adres (alleen beschikbaar voor Windows-hosting).
Dit soort mail direct afwijzen en niet accepteren. Als de SMTP-software van de afzender goed is ingesteld, dan zal deze een melding van een niet-bezorgd bericht genereren "Recipient address rejected: User unknown in virtual mailbox table" (de optie Afwijzen).

Webmail. Als uw hostingpakket u laat kiezen welk webmailprogramma u voor domeinen wilt gebruiken, dan kunt u deze in de mail-instellingen selecteren.
Bescherm tegen spam door met het DKIM-systeem uitgaande berichten te ondertekenen. DKIM biedt een methode voor het valideren van de identiteit van een domeinnaam die aan een bericht is gekoppeld via cryptografische authenicatie (www.dkim.org).

Als u DKIM voor een domein hebt geactiveerd voegt Plesk de volgende twee records toe aan de DNS-zone van het domein (voorbeeld.nl staat voor uw domeinnaam):

default._domainkey.voorbeeld.nl - bevat het publieke deel van de gegenereerde sleutel.
_ domainkey.voorbeeld.nl - bevat het DKIM-beleid.

Naast DKIM ondersteunt Plesk SPF en DMARC voor uitgaande e-mail. Beide zijn gebaseerd op regels opgegeven in de DNS-zone van de verzender. Het DMARC-beleid definieert hoe de ontvanger e-mailberichten moet behandelen afhankelijk van de DKIM- en SPF-controle. In Plesk heeft het DMARC-gerelateerde DNS-record als uitgangspunt dat berichten niet worden verwijderd, ook als de DMARC-controle mislukt. U kunt echter strengere regels opgeven. Merk echter op dat het uiteindelijk aan de ontvanger is om een beleid op inkomende mail toe te passen.

U kunt het SPF- en DMARK-beleid voor uw domein aanpassen via de DNS-instellingen van het domein (meer hierover later in deze sectie).
Opmerking: Sommige mogelijkheden, zoals DKIM, webmail en verzendlijsten, zijn wellicht niet beschikbaar, afhankelijk van uw hostingpakket en van de instellingen van Plesk voor de server als geheel.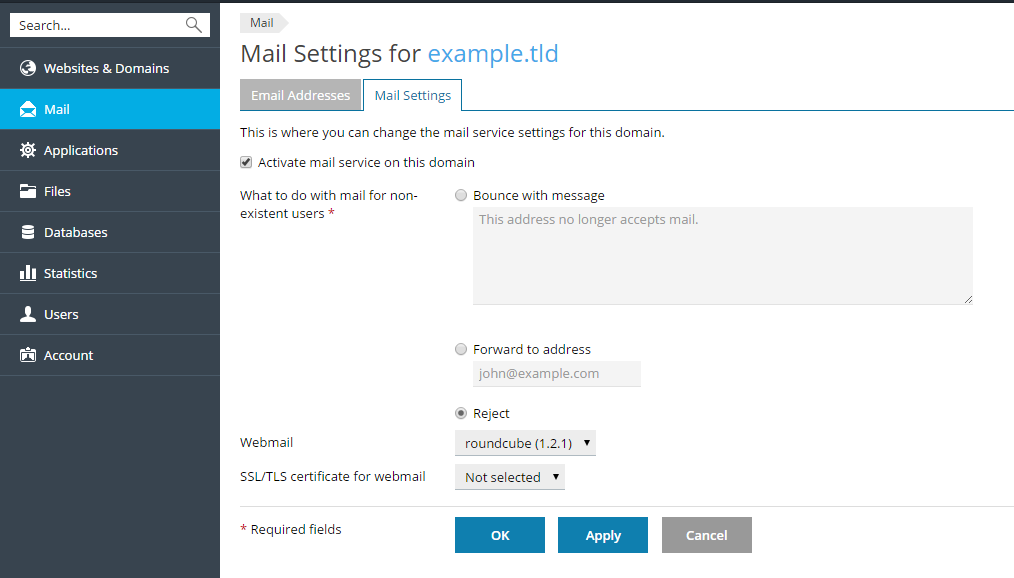 De maildienst configureren voor een individueel domein:
Ga naar Websites & domeinen en zoek het domein op waarvoor u de mail-instellingen wilt wijzigen.
Klik op Mail-instellingen in de instellingen van het domein.
Bewerken de instellingen en klik op OK.
De maildienst configureren voor meerdere domeinen tegelijk:
Ga naar Mail > tabblad Mail-instellingen.
Selecteer verschillende domeinen in de lijst door te klikken op de bijbehorende selectievakjes.
Klik op de juiste knoppen in de werkbalk (Diensten in- of uitschakelen, Webmail, Mail aan niet-bestaande gebruikers of Uitgaande berichten beperken) en bewerk de instellingen.

Alle geselecteerde domeinen hebben nu dezelfde mail-instellingen.
Een aangepast DMARC- of SPF-beleid voor uw domein instellen:
Ga naar Websites & domeinen > open het juiste domein > DNS-instellingen en bewerk de DNS-records die te maken hebben met SPF of DMARC. Dit record bevat bijvoorbeeld het standaard DMARC-beleid van Plesk:
_dmarc.<uw domein>. TXT v=DMARC1; p=none
Voor informatie over DMARC en SPF, inclusief de manieren om de regels te formuleren, zie: